Urban Dream: City Flâneur
2020
Location-based Augmented Reality
Time: Three months (Mar - May 2020)

Tools: Unity, Cinema 4D, Mapbox SDK, AR Kit, Xcode
Scope: Research, Storyboard, Modeling, Programming, User experience
ABSTRACT
Urban Dream: City Flâneur is a
location-based traveling Augmented Reality
(AR) experience that depicts the three different derivatives of
Chinese and American culture
. This is an AR journey through an immersive world filled with a series of story-based digital sights happening in Chinatown, Manhattan.
(Due to the COVID-19, part of the location-based technology can not be fulfilled. Will make it completed after quarantine.)
Conceptualization

‍1.Ideation
2.Research
Design

‍1.Storyboard
2.Prototyping
Development

‍1.Programming in Unity
2.Device testing
Presentation

‍1.Onboarding experience
2.Collect feedback from them players
IDEATION
Flâneur is a cultural observer. He writes books and poetry and takes photographs, with the cultural aim of understanding the city, yet he never just looks at it from the surface. Instead, he experiences some things in depth." Leo Ou-fan Lee, a Chinese commentator, and the author describes city Flâneur in the book The Flâneur in the City: Cultural Observations.

The best way to get to know a city is to learn the people's stories in that city. I tend to be more objective by observing and understanding the story behind it, which has always been my creating premise. Augmented Reality as an emerging new media art tool allows people to understand narrative better. I took this medium to create a portable museum where people have almost unlimited access to the city's culture and stories.



---
USER TARGET
- First-generation of immigration
- The second generation of immigration
- Internation student or international worker


In creating this project, I am wandered around Chinatown as Flâneur to explore race, immigration, and assimilation stories. I talked with the people who live there, observed the business that makes money there, and researched the history. Based on those urban data I gleaned during the process, I designed three digital AR contents. The three main elements I chose to focus on are food, residents' stories, and language.
RESEARCH

&
DEMO
Listed below are summaries of my visits to Chinatown and interviews with residents; to protect the interviewees' privacy, I have not published their personal information.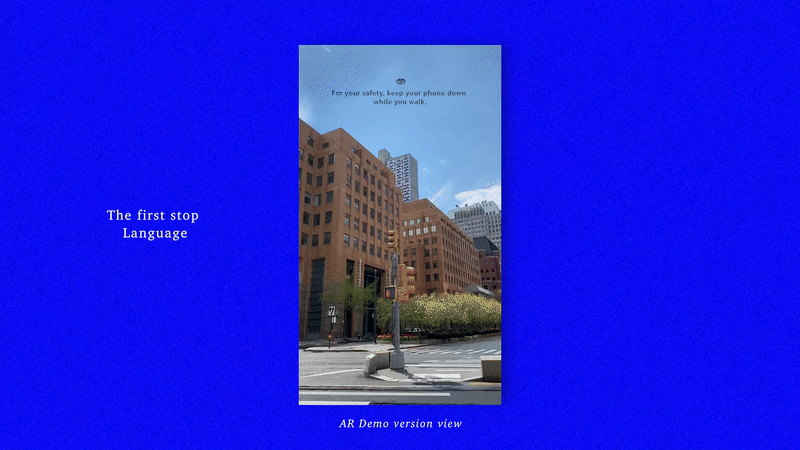 First Stop - Language
So far, 60% of the people still living in Chinatown are Cantonese speakers. Many of these people do not speak English. However, to integrate into the English-speaking culture, they invented a series of English words using the Cantonese pronunciation, which dates back to British colonial Hong Kong. It is an exciting phenomenon derived from the intersection of Chinese and English cultures.
The first stop of the experience is a Soundwalk, where the kinetic fluid is transformed into a variety of Cantonese English notes and word spellings.
Second Stop - The story of garbage
This is a story from one of my interviewee, she is "canner" the people who survive on picking up cans and bottles in the city, she still retains the traditional Chinese belief that only places bought by themselves are called home. After 30 years of renting life in New York, she has been saving up for her dream of buying a home by picking up can and bottles to sell, no matter for herself or her descendants.
This stop of the experience will take place in One Manhattan Square where the area she was forced to move out because of the establishment of this building. The animation that take place in a virtual world, where garbage attaches to the building and is passing.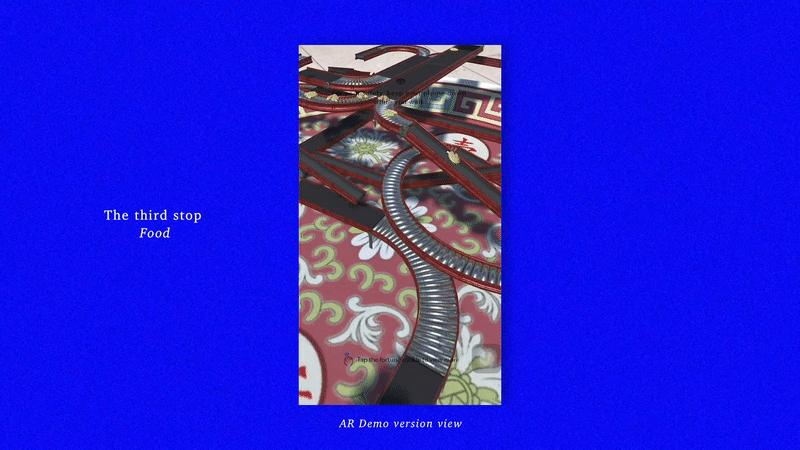 Third Stop - Food
This stop is an interactive experience where many Chinese-style plates will be placed all around the corners in Chinatown, and the conveyor belt above will deliver the fortune cookies. By clicking on the cookies, the traveler will get recommendations for authentic Chinese food restaurants.
Fortune cookies and orange chicken are significant misunderstandings of Chinese cuisine by the westerner, and they do not appear on Chinese dining tables. After having conversations with many restaurant practitioners working in Chinatown, the artist created this food conveyor belt to give the traveler recommendations about authentic Chinese food.
INFOTRMATION ARCHITECTURE
This is a city AR journey, the Map and App can be used as a tool to the user onboard this journey.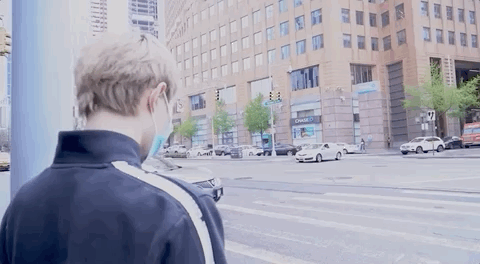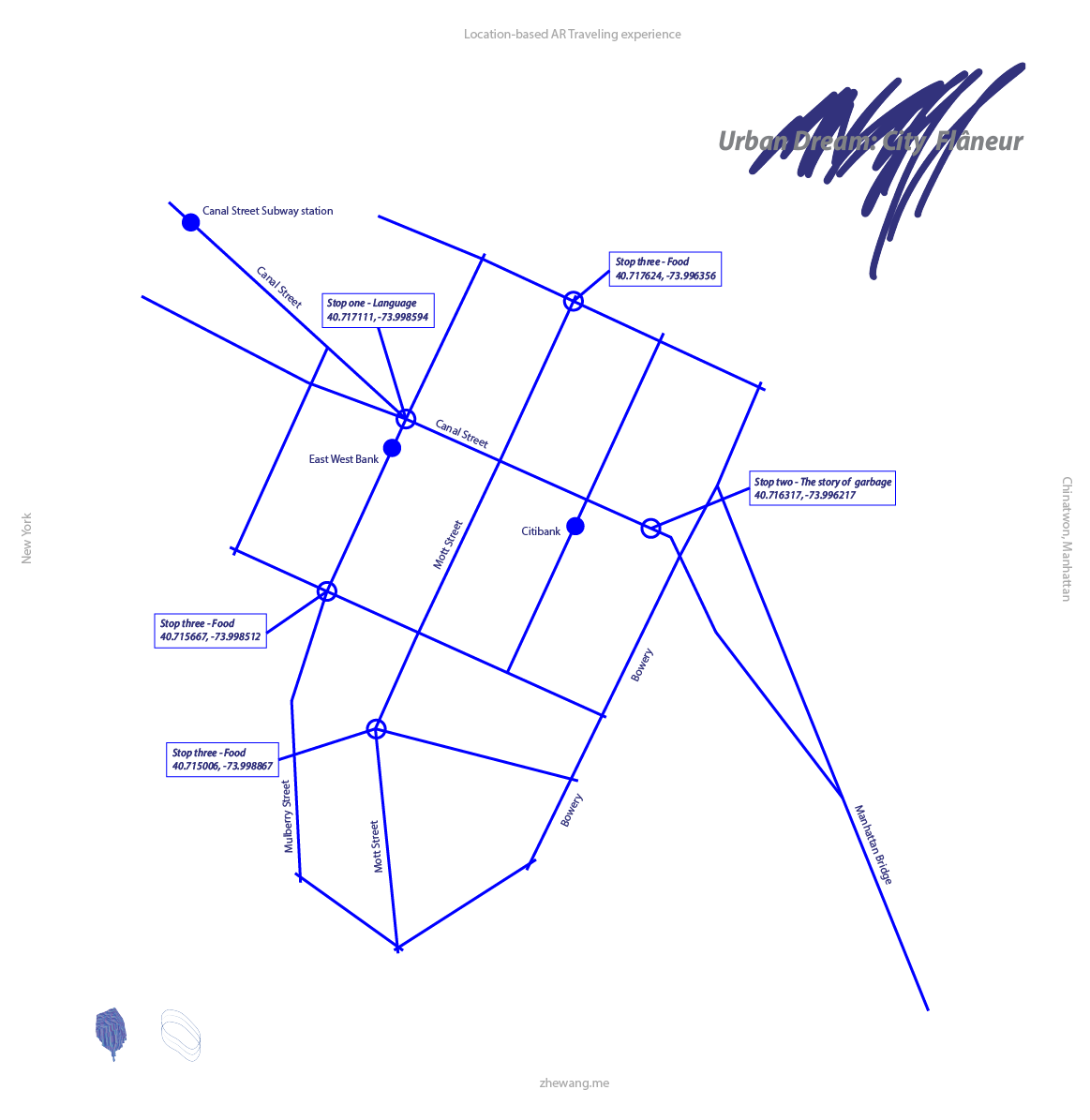 Due to the epidemic, the location-based technologyand the voiceover form my interviewees are not available. After the epidemic, I will finish the entire piece.

- User Testing
- Mapping Contents
- Recording Voice
- Publish
Thanks for making it here.